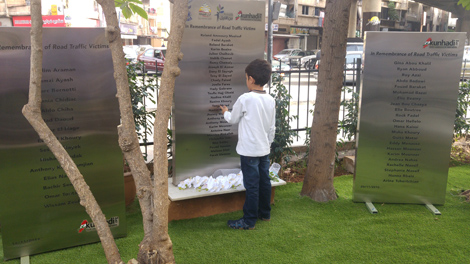 KunHadi Events
World Day of Remembrance for Road Traffic Victims Beirut 2016 - Lebanon
The United Nations announced the third Sunday of every November a World Day of Remembrance for Road Traffic Victims. This day provides an opportunity to draw the public's attention to the epidemic of road traffic crashes, their consequences, costs and measures that could be taken to prevent them.
This day serves as a reminder that Lebanon loses over 850 people every year on the road leaving behind them families, friends and bright futures.
The majority of victims are young men and women aged between 15 and 29 years, who are irreplaceable in their families and are an invaluable asset to the development of our community.
In collaboration with the Municipality of Sin El-Fil and in the presence of its Municpality President, Mr. Nabil Kahhaleh, Kunhadi invited a number of parents and friends who lost a loved one on the road, to gather at the Road Traffic Victims Remembrance Garden in Sin El-Fil and inaugurate the third commemoration banner in the garden, honoring the names of 22 young men and women.
Parents and friends were invited to the podium to recount the funniest and happiest memories they share with people they have lost. They then wrote short letters to their loved ones and attached them to helium balloons that they sent up to the sky. This yearly event offers parents moral support by putting them in contact with others who are in similar situation. Sharing their grief and their good memories inspires parents in pain and helps them to make peace with this loss and move on in life.