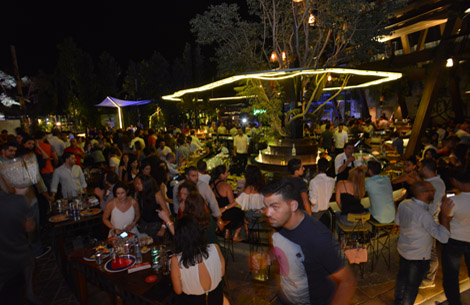 KunHadi Events
Taxi Night 17th Edition on World Emoji Day
Beirut, Lebanon, July 20th, 2016:

Kunhadi hosted its 17th edition of "Taxi Night", in partnership with Pepsi, and sponsored by Zaatar w Zeit and Diageo, under the slogan: "You want to party? Call a cab." The event took place on July 18th, 2016 at 10:00 pm at Seven Sisters, Biel, Beirut.

"Taxi Night" is a concept created by Kunhadi in 2007 to promote the use of taxis after a night of partying, whereby guests arrive to the venue and leave by two-way taxis offered by Kunhadi, as they are prohibited to drive their own cars to this event.

Mr. Fady Gebrane, President of Kunhadi, conveyed his heartfelt appreciation and gratitude for all the support Kunhadi has received over the years from sponsors and individuals alike: "Whenever we need you, we find you standing by our side supporting our work to raise road safety awareness. We, at Kunhadi, deeply cherish your dedication to this cause. It is thanks to your enthusiasm and commitment that the Lebanese government was inspired by Taxi Night to offer free Taxis on NYE, that prom nights organizers are contacting us to help them offer Taxis for their peers, that even wedding planners are seeking Kunhadi's support to provide their guests with Taxis and avoid the risks of drunk driving. I want to thank you all for joining us for Taxi Night 17th edition, and I want to tell you that YOU are saving lives!"

As the event's main sponsor, Pepsi wishes to express its support of Kunhadi's leading efforts to reduce drunk driving which remains one of the leading causes of fatal crashes among young drivers today. "It is really a wonderful occasion to further celebrate Taxi Night on World Emoji Day, as Emojis embody a universally shared language and are just a great way to remind everyone not to drink and drive," says Mr. Elie Bou Akel, PepsiCo Sr. Franchise Director. "We hope that everyone send their loved ones a Taxi Emoji and encourage others to drink responsibly as they make the most of all of our 600 PepsiMojis. We also would like to thank Kunhadi again for their commitment to protecting all of the youth, as well as the celebrities attending Taxi Night who join us in raising awareness and spreading the message."

Mr. Ziad Karam, Corporate Relations Director Global Travel & Middle East at Diageo, said: "Diageo is committed to reduce the incidents of drinking and driving in excess of the permitted limits, and will continue to support responsible drinking and Kunhadi's relentless efforts in saving lives. He added: "On this particular Taxi Night, we are asking people to join Diageo's worldwide pact to Never Drink and Drive through In Good Spirit, our local platform to promote Responsible drinking, which will add to the 2.6 million signatures collected so far around the world. In addition to urging more people to make a personal commitment to get home safely and Join The Pact, Diageo has recently been selected by the United Nations Training And Research arm (UNITAR) to be a partner for a global two-year partnership to prevent drinking and driving."

Zaatar w Zeit further expressed their support to Kunhadi, Taxi Night event, and what it stands for. "As a brand that Loves Regardless, Zaatar w Zeit joins Kunhadi in promoting road safety and providing a better environment for the Lebanese. Collaborating with Kunhadi is a way for Zaatar w Zeit to give back to a beloved community that has lost too many young souls because of irresponsible drinking. We hope that this fruitful collaboration will continue until we stop losing the people we love because of driving under the influence," said Mr. Elie Ghobeira, Brand Manager at Zaatar W Zeit.

At midnight, Zaatar w Zeit distributed snacks to all the guests in order to renew their energy for the night. This initiative, in addition to the unlimited amount of water and soft drinks to keep people hydrated, and limited alcohol intake to promote moderate drinking, ensured everyone enjoyed a fun atmosphere throughout the entire night, while drinking responsibly and getting home safely.

Many celebrities and public figures joined the event including: Education Minister Elias Bou Saab, Rima karaka, Nisrine Zawahra, Pamela El kik, Wissam Hanna, Carlos Azar, Tarek Soueid, Nicolas Mezher, Pierre Rabbath, Roula Saad, Jad Choueiry, Youri Mrakadi, Yorgo Chalhoub and Jessy Abdo.