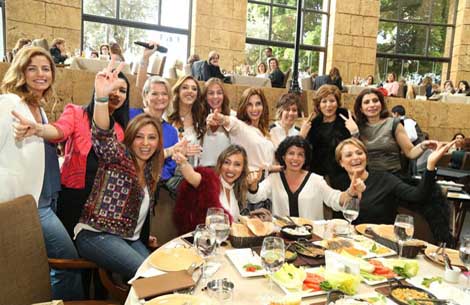 KunHadi Events
Kunhadi Sixth Mothers Day Brunch Fundraiser at Babel
On the occasion of Mothersí Day, Kunhadi held its sixth Mothers Day fundraising brunch on March 21, 2016 at Babel Dbayeh at 9 in the morning, in the presence of Miss Lebanon 2016, Miss Valerie Abou Shakra.

During her speech, Kunhadi Vice President, Mrs. Lena Gebrane, urged mothers to always be the best and safest role models on the road for their children, as mothersí driving behavior heavily influences the driving of their children in the future. ?Mrs. Gebrane also thanked Miss Lebanon 2016 and all guests and supporters for their participation that will enable Kunhadi to continue raising road safety awareness in schools and universities. She then called for a round of applause dedicated for the courage and strength of all mothers, notably those who have lost children on the road.

After enjoying a lovely brunch accompanied by smooth live piano, the mothers won valuable gifts in a raffle and received Kunhadi goodie bags offered by a number of Kunhadi supporters.