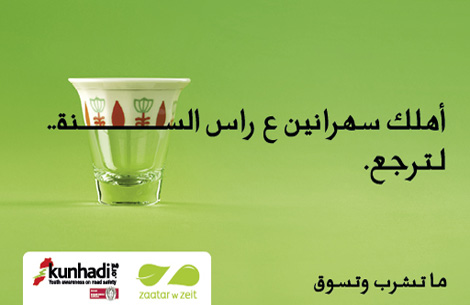 Campaigns
Kunhadi and Zaatar w Zeit Team Up For NYE Campaign To Raise Drunk Driving Awareness
New Year's Eve (NYE) is often celebrated with a large consumption of alcohol, making it one of the most feared nights due to its driving hazards.
Kunhadi teamed up with traditional fast food franchise Zaatar w Zeit to launch a drunk driving campaign and encourage the youth to make the right choice and use a cab instead of driving under the influence of alcohol.
Designed by Kunhadi's long time partner, M&C Saatchi MENA, the campaign brings to light a different type of countdown on this eve, and a much longer one: the countdown for parents until their children come back home safely.
The campaign's still visual and video quickly went viral on Social Media platforms sending positive promise of awareness and willingness of young drivers to remind each other of staying safe on this eve.
Seeing the high number of drunk-driving related crashes on New Year's Eve (NYE), Kunhadi decided in NYE 2012-2013 to offer free taxis to nightclubs to be offered for free to clients too intoxicated to drive.
Thanks to the success of this campaign, Kunhadi made it a yearly activity on every NYE and on 2014-2015, Kunhadi covered 60 Taxi rides and prevent over 60 people from risking their lives by drunk driving.